We missed a lot of news and other stuffs during the days we were away. In behalf of Ji_Won, I'd like to congratulate Hyun Joo unni for winning the last round in
Strong Heart
! Great! It's a really happy new year for us. We really envy everyone who had a chance top watch it. It's really difficult for us to find a long time to update this site. For the people wondering why both Jiwon and I are not around, we're cousins (and we're with our families now), and both HJ fans. ^^, By the way, here's a photo of unni's trophy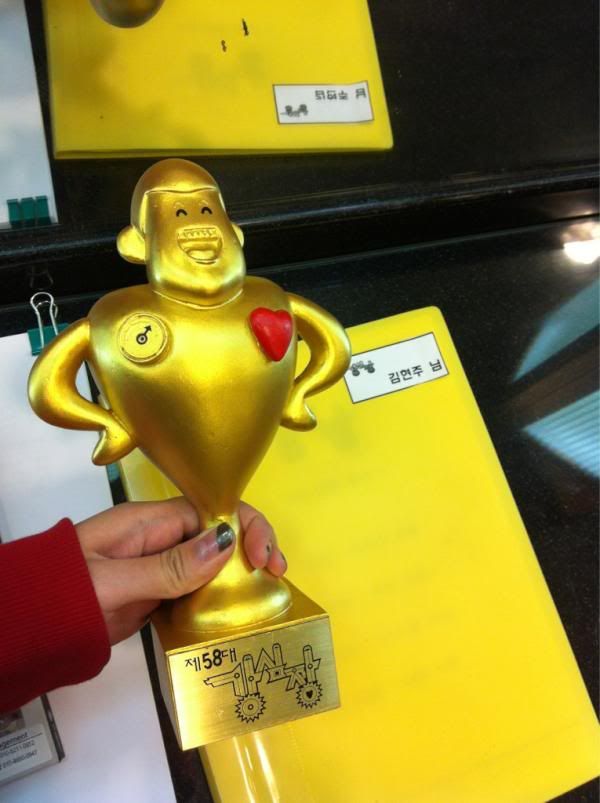 photo credit: @jellabyuri and rinrinkoe (SOOMPI)
You can find some DL links at KHJ's soompi thread.
Also, we'd like to congratulate unni for winning the Top Excellence Award in this years MBC Drama Awards. And also Kim Seok Hoon and Lee Yoo Ri for winning Top Excellence Actor (Serial Drama) and Excellence Award, respectively. Sadly, the Daesang had to go to a drama instead of an actor/actress.
And surprisingly, Hyun Joo unni's outfit is a
wow
! Love love love love it!!! Actually, to be honest, Jiwon and I were thinking of the opposite. But whoa~ that was really sexy. I think we only get to see unni wearing sexy gowns every once in a blue moon. LOL just kidding. But we were really satisfied. The best couple and popularity award didn't go to our lovely couple but it's okay. Just knowing that they got the Top Excellence Award for Serial Drama is already a great way to end 2011 and start 2012. I bring here some of the photos of MBC Drama Awards.