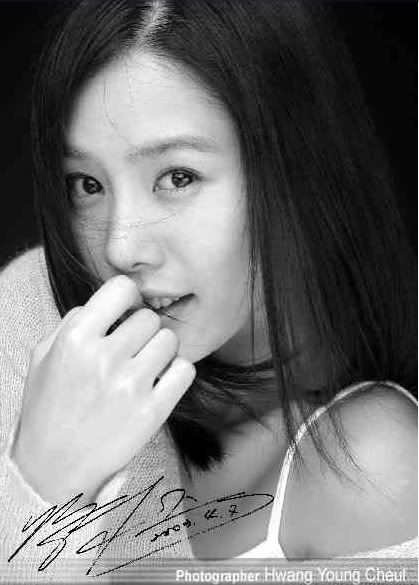 **This is an old article about Kim Hyun Joo. We would like to share it to all of you. If you want to know more about Hyun Joo unni, this post is for you.**
----------------------------------------------------------
Because Kim Hyun Joo acted lively characters, she has the image that she suits them. As an actress, she doesn't have the kind of good looks that jump out at you, but she possesses the ability to entertain you. With that kind of image, it surely has the consequence of suiting Kim Hyun Joo's acting. The SBS drama that she shot, "Miss Kim's Million Dollar Project", was a production that really suited her image. The character of "Eun Jae" that she portrayed was a character that had to show a bit of a foolish appearance. And as the viewers watched her, at whatever time, they were entertained.
Along with the appearance of an Eun Jae who stubbornly collected money, Kim Hyun Joo also acted and filled in the appearance of Sun Woo in the SBS drama "Glass Slipper". I'm talking about the appearance of her being able to optimistically get up and brush herself off with a smile, no matter how terrible the circumstance. That's why viewers open up their hearts to Kim Hyun Joo's acting. Rather than a senseless liveliness, Kim Hyun Joo's face fills the kind of liveliness of being able to receive hardship and get back up strongly.
Even during the second half of "The Land", when Choi Suh Hee had become a 50-year-old grandmother who'd passed middle age, the producer didn't demand for her to put on an unreasonable disguise of an aged person. That's because they decided that it didn't suit Kim Hyun Joo's image. Before it was produced, they had a plan to make it so that Choi Suh Hee became "old gracefully"; in a pretty way.
Although of course she gained popularity from fans with her cute face, Kim Hyun Joo diffidently has a lot of complexes about her face. A lot of actresses are having long-term plastic surgery, and although she says "I'm satisfied with my current face", Kim Hyun Joo also says that "There are a lot of parts of me that I don't like." She reveals her complexes honestly.
"One time, while shooting, I said that I liked my eyebrows, and that 'I can never shave my eyebrows, no matter what role I take'. But after thinking it over, I don't think they're part of an actor's figure. I used to like my eyes, but as I grew older, well, I don't know if it's because I was hardened by the rough-and-tumble of life, but I think they became strange-looking. I have a few freckles, but I think they look natural, so they're okay. My ears are too small, and my face is a little long. I don't like the shape of my face, either..."
Let's analyze Kim Hyun Joo's face. Like her own assessment, it isn't a perfect face. Her rather thick lips look swollen, and helped create a cute image for her. Of course, her face is small, and although the real thing is much prettier, her cheekbones are a little protuberant. Her jawline, too, isn't a model of traditional beauty.
For an actor, it's good to feel strong about your own face, and it's good to be honest. Even as she reveals all this, her strong posture is Kim Hyun Joo's strong point. The thing I'm really curious about is how Kim Hyun Joo's lively image will change as she grows older. What I'm sure about is that the role of Choi Suh Hee in "The Land" was one which gave her the opportunity to show her maturity, rather than her liveliness.
Kim Hyun Joo debuted in 1997 in Kim Hyun Chul's music video "One's Lifetime". With the MBC drama "The Reason I Live", she was able to advance into the T.V. screen. With her debut in "The Reason I Live", Kim Hyun Joo became a star who grabbed attention in one stroke. In the drama "Club Waitress", Kim Hyun Joo was called by the nickname "Miss I-Don't-Know", and she gained popularity.
From her debut, Kim Hyun Joo received a stroke of good luck. She was quick with her big-screen debut, as well. She shot her first movie, 1998's "If Snow Falls At Christmas", with Park Yong Ha, and she shot her next movie, "Calla", with Kim Hee Sun and Song Seung Hun. By shooting a udong CF, too, her words "The soup tastes awesome" were copied a lot, and she gained popularity.
"I like perfect men"
These days, Kim Hyun Joo is trying to prove that she's not a "One Hit Wonder", and is shooting one drama after another. Behind her is "That Woman's House", "Sang Do", "Into the Sunlight", "Glass Slipper" and "Miss Kim's Million Dollar Project". Thus, Kim Hyun Joo made a strong resolution to be a star in the entertainment industry who would be guaranteed to be seen in the T.V. screen, and walked far away from the road of movies.
However, the movie she shot for the first time in five years is "Shinsukki Blues" with Lee Sung Jae. Kim Hyun Joo has never received good praise for a movie, so this shooting of a movie in a long time was a challenge that brought burden and anticipation. Although Lee Sung Jae's transformation into an ugly man was the topic of conversation, the Kim Hyun Joo who stood beside him carried the burden of using not her acting with her body, but acting with her heart to gain new fans. In the end, "Shinsukki Blues" wasn't able to gain big popularity, but luckily, after being cast in "The Land", she was able to let go of her anxiety and sell out her acting.
Let's take a look at Kim Hyun Joo's early days. The lecturer at the acting academy who taught her how to act was Ms. Kim Ji Soo, and she highly praised Kim Hyun Joo's humanity, saying that more than anything else, Kim Hyun Joo considers being on time to be very important. Ms. Kim said "Hyun Joo has not once been late for an appointment. She's the antithesis to the new actors who always make up excuses about their schedules or break appointments or neglect their acting studies. I already thought then that Hyun Joo would attain greatness."
From her fellow actors, too, Kim Hyun Joo receives recognition for her humanity. Kim Hyun Joo is unable to act if she doesn't become friends with the actors she's shooting with. She has to feel comfortable in order to be able to act naturally. There are actors, who are true pros and who are thorough with their acting, who become friendly with their co-stars, and when they leave the production site, they stop being friends. She is able to create a soft atmosphere for the production site.
That's why she sometimes gets into scandals with her co-stars. Even so, the reality of it is, she herself doesn't care about that. Even when she was shooting "Glass Slipper", and various accounts and news reports came out regarding her relationship with So Ji Sub, whom she'd become friends with, she received it all calmly. On MBC's "Section TV Entertainment Correspondence", she was an MC with Suh Kyung Suk. On-air, "half-joking, half-serious", he confessed his love for her. Even then, Kim Hyun Joo handled it proficiently.
When Kim Hyun Joo described her ideal man, this writer was a little startled. Without reservation, she says "I like perfect men." She says, "I really dislike being embarrassed or feeling inferior to someone. I'd like it if my boyfriend was the kind of person that all the resourceful people would be envious of." She also revealed that it'd be okay to marry a fellow entertainer. But honestly, what woman would turn down a perfect man? It's just that it's difficult for them to say it honestly. Especially for actresses, during interviews, when they talk of their ideal man, it's normal for them to reply unabashedly, "I like people with good personalities." Kim Hyun Joo's charm lies in her very honest personality.
-Translated by Dahee Fanel-